Company Logo

APRIL MY TRAVEL INSURANCE 
You need to travel abroad and want to leave with complete peace of mind with full insurance and Covid 19 coverage
Our solution, simple and efficient with a first-in-class French insurer with pandemic coverage
More and more countries require Covid 19 coverage with a certificate of insurance such as Thailand, Cambodia etc.
If you are going to stay in Thailand, Cambodia for example less than one year you are supposed to apply to travel insurance (tourist visa)
Only one travel medical insurance company accept to cover Covid 19 and provide compliant certificate in Thailand : April International – My Travel Covers. The provider is global and also based in Thailand.   
In order to receive the Covid coverage certificate :
-You need to subscribe for 6 months minimum (mandatory from insurers)
-You need to select COMFORT plan including outpatient treatment
Please look at the below Brochure, page 4 and 5 for medical benefits details and choose your package.
To apply to the Travel Health Insurance with our French partner with a branches in Thailand Bangkok and a Third Party Administrator for expatriates, please complete the attached application form + Health questionnaire and send it to me by email with passport copy.
Please make sure the period of cover on page 4 is 6 months. The Covid 19 exposes insurers so that the number of months is 6 and without exception

PREMIUM RATES APRIL MY COVER 2020 (Mandatory 6 month due to Covid 19)
Zone1: Worldwide including United States
Zone 2: Canada, China, Hong-Kong, Mexico, Monaco, United Kindgom, Russia, Singapore and Switzerland
Zone 3 : Rest of the world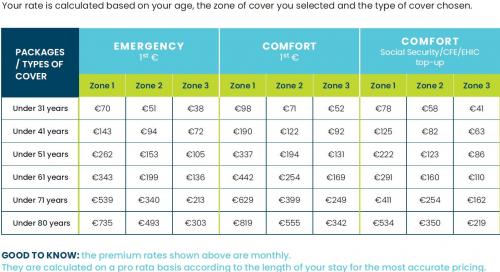 You will be covered:
› in the zone where your primary country of destination is located and in the lower level zones
› in your country of nationality during temporary stays of less than 90 consecutive days,
› in case of accident or medical emergency on submission of the claims form, for 30 days accumulated over
the entire period outside the zone of cover (USA, Canada, China, Hong Kong, Mexico, Monaco, Russia, Singapore, Switzerland)
› excluded countries .
 
For more information, download the pdf documents below:
---
ALL PRODUCTS OF THIS COMPANY

Private health insurance designed to protect expatriates around the world…

APRIL MY TRAVEL INSURANCE  You need to travel abroad and want to leave with…